So when it comes to grads: accessories, makeup, hair; yes they're all very important aspects of looking good but none of it matters if you don't have a dress that looks amazing on you. Notice the emphasis on you? Yes you can have a dress that's amazing looking, but it mite only be gorgeous on the mannequin... not you.
So in this post we'll go about finding the perfect dress for your body type, a dress that accentuates your physique. Some of the need-know things have been highlighted by ellegirl and tiza in the articles linked below; check them out---->The Best Prom Dress for Your Shape and http://www.tiza.com/prom-dresses/body_type.php.
So here are some basic guidelines and illusions to remember when picking out a dress;-
Long, fitted dresses of solid colors can make you appear taller than you are.
Vertical ruffles can also make you seem taller.
Poofy, princess gowns may be too much for a small person, and you can become lost in the dress =(.
Dresses with busy patterns and lots of bold colors can make you seem bigger than you actually are, so stick with 2 colors max.
Fitted dresses can accentuate your shape, just make sure that it isn't too tight because then it becomes unflattering.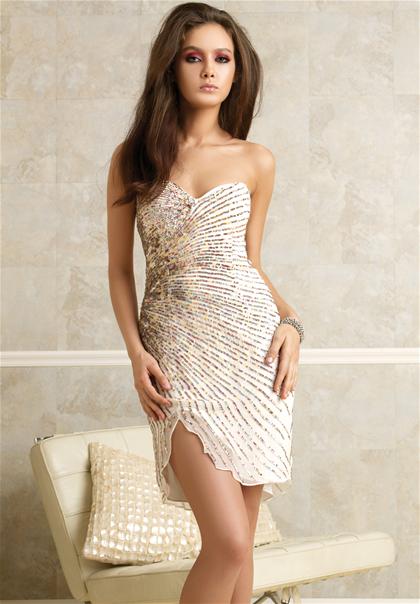 A full, princess like skirt will flatter a small tush and hips.
If you have some what of a boyish figure, a dress with an accentuated/ jeweled waistline or a simple ribbon will make your waist more defined.
If you're really skinny, avoid off the shoulder styles as they can make your collarbones look too sharp.
If you have big arms, go for halter dresses that expose your toned arms... covering them only may make them seem larger. Also add balance to a broad upper body wit a full a-line skirt.
If you have a tummy, you'll feel more comfortable with an empire waistline.
If you have a short neck, avoid halter dresses as they can make your neck practically invisible.
When choosing the color of your dress... yes you may want to go with your favorite color, but it's more important that you choose a color that flatters your complexion.
Well that's all I can think about for now... lolz. You want to buy your dress early in case you need to make any alterations and at least 6 days before, you want to do a final fitting with all your accessories to see if you need to make any last minute changes. If you're getting your dress tailored make sure it's no last minute thing. And well even though there are certain things the experts say, that doesn't mean that you can't get what you really want, for example; designers say that if you're short go for long slim fitting dresses, yet yours truly couldn't resist a short poofy dress and wore that to grads =).